Water Softener Rentals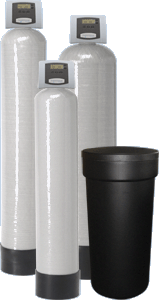 Reduce the risks of maintaining owned equipment, reduce the upfront investment and increase the peace of mind you'll have from renting your water softener from Ufill Water Center.  For $1 a day, enjoy clear, softened water at home from any tap in the house.  Save every month by using less dish detergent, less fabric softener, and even less shampoo, while saving you and your family from the harmful effects of bathing and washing food in hard water.  Extend the life of your dishwasher, washing machine and ice makers by reducing the build up of hard water mineral deposits.
For ease, softener rentals are processed on your credit card monthly.  Installation is a one-time setup of $200 + HST and rental contracts are a minimum of 3-years, with the benefit of being transferable.