Purified Water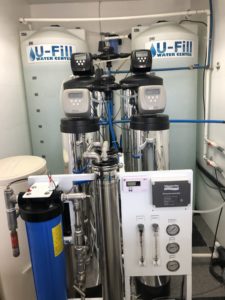 Our Premium filtered water is filtered right on site, where you can walk in, look through the glass wall and see the process happening.  U-Fill water is clean, clear and we'll happily carry it out to your car once it's full.  We filter to less than 5 PPM (Parts per million, or the level of impurity in the water.  The lower this number, the more pure the water is), where as the Town of Tillsonburg tap water can run upwards of 300 PPM.  Every time you walk in, you can check our most recent PPM rating to see that our equipment is working at peak performance to provide you, your family and your co-workers with great-tasting and truly purified reverse osmosis water.
Alkaline Water
Because alkaline water has a higher pH level than does plain tap water, proponents say that it can neutralize acid in your bloodstream, boost your metabolism and help your body absorb nutrients more effectively.  Refill your existing water bottles with Alkaline water at $1/gallon!
Water Purification Equipment and Sales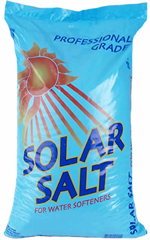 Not only do we insist on carrying top quality manufacturers of water softeners, filtration systems, Reverse Osmosis and home purification equipment, but we also carry replacement filters, UV bulbs and softener salts for other manufacturers.  From now on, make U-Fill your one-stop shop for water purification parts, equipment and service.  We offer products from Sterilight, Petwa Water Group, Water Group Companies Inc. and Viqua.  Ask us about Solar Salt for softeners.  99.6% efficient and environmentally friendly!
Filtered and Bagged Ice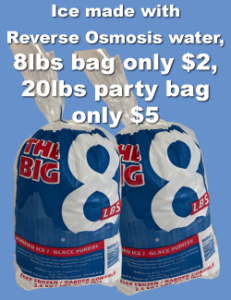 Not many of us have the freezer capacity, or time available to freeze enough ice for the block party, or family get together.  Or how about realizing at the last minute that you forgot friends are coming over, and there's no ice in the house.  U-Fill uses our own water purification system to create and bag crystal clear ice cubes, without the cloudy look and often freezer-burnt after taste of the other guys.  We bag the ice straight from the completion of the process to avoid any contaminants like dirt or dust getting into the bags, so you know when you open a bag of purified ice from U-Fill Water Center, you're getting clean and refreshing ice.
ROTOSPA Portable Hot Tubs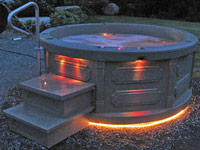 ROTOSPA portable hot tubs are all about fun. Make parties a truly memorable event and watch your family grow closer as you spend more intimate time together having fun.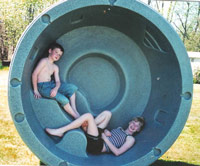 ROTOSPA portable hot tubs represent an investment in your home and yourself. Hot tubs are an excellent way to increase property values but the real investment is in your quality of life. Find comfort and connection with yourself and those you love in a ROTOSPA portable hot tub, plus when you need to clear deck space, roll your ROTOSPA off the deck, or onto the patio.  See ROTOSPA's full line of product on their website here: www.ROTOSPA.com
For more information about our Supplier's products, please visit U-Fill Water Center – 49 Oxford Street, Tillsonburg, Ontario, N4G 2G4 – 519-688-8118.
We'd be happy to answer any questions you have and walk you through the process of home installation.